On Grove Avenue Every Friday from 3pm – 7pm
We're sprouting up great things with a new location, new day, new time and new vendors! The Elgin Farmers Market (formerly known at the Harvest Market) will now be held on Grove Avenue near DuPage Court EVERY FRIDAY from 3pm to 7pm beginning June 1st and running through October 5th. The DNA staff and our Farmers Market Committee have lined up new and exciting vendors for 2018 and we will continue to enhance the market as we receive feedback throughout the year. Read a review of the revamped Downtown Elgin Farmers Market by a local blogger here.
Thank you to our presenting sponsor!
New for 2018, Side Street Studio Arts is taking the lead on First Friday happenings with the support of a grant from the Elgin Cultural Arts Commission and in partnership with the Downtown Neighborhood Association as well as Explore Elgin Area. The DNA is dedicated to enhancing First Friday under the leadership of Side Street Studio Arts to increase foot traffic for retail, restaurants, local artists and the other resources downtown Elgin has to offer, to initiate a positive economic impact on the area and to highlight Downtown Elgin as a monthly destination for community gathering. Click here for First Friday updates! If you are a local Downtown Elgin business interested in participating in First Friday click here.

On Frist Fridays look for the Elgin Farmers Market to have some special events to add to the festive atmosphere. As details are finalized they will be posted here and to the Farmers Market facebook page.
SHOPPING TOTE – JUST $4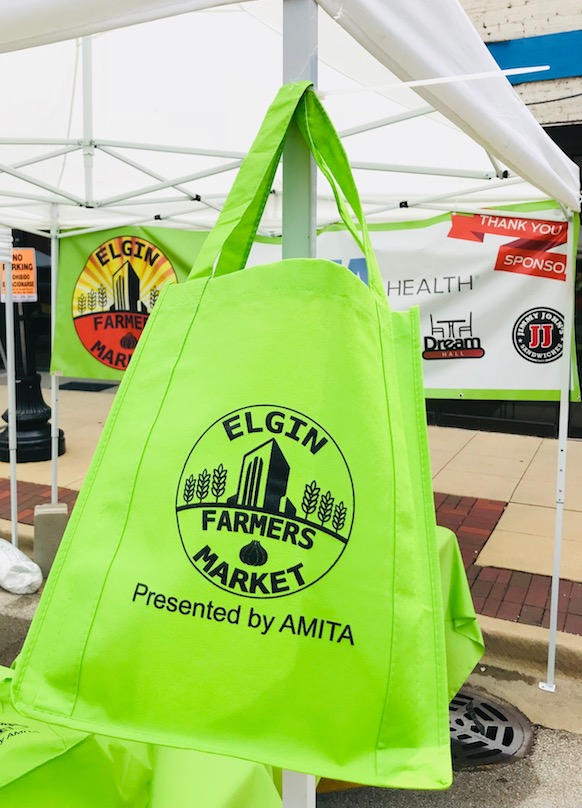 Stop by the DNA Information Tent to purchase a Farmers Market shopping tote for a donation of $4! Proceeds will be used to help support the DNA and the Farmers Market.
2018 Downtown Elgin Farmers Market Vendors
Here is a look at some of the vendors who will be joining us throughout the season. Please note vendors will vary by date based on their availability.