Ziegler's Ace Hardware
215 N. Spring Street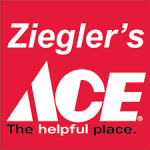 Ziegler's Ace Hardware has a long and lively history. It is one of the longest continuing businesses in the state of Illinois, starting back in 1856 and continuing today as a Downtown Elgin tradition.
Get in, get help, and get on with your life with help from Ziegler's Ace!
The History of Ziegler's Ace Hardware
The business started in 1856 as Meehan's Hardware in Elgin, Illinois. Lyle A. Ziegler purchased Meehan's in 1930 and joined Ace Hardware Corporation in 1934. Ace Hardware was just 10 years old at the time, and was formed by five Chicago hardware retailers to improve their stores by purchasing product together. In 2013 David's son, Adam, became the fourth generation of Zieglers to join the family business. At the beginning of 2015, David and Adam began to lead the day to day operations. The family business now includes nine stores in the Fox River Valley and is looking for additional locations in nearby markets.
Monday :7:00 AM - 8:00 PM
Tuesday :7:00 AM - 8:00 PM
Wednesday :7:00 AM - 8:00 PM
Thursday :7:00 AM - 8:00 PM
Friday :7:00 AM - 8:00 PM
Saturday :8:00 AM - 5:30 PM
Sunday :9:00 AM - 5:00 PM