Oddball Art Labs
arts-entertainment
Oddball Art Labs is a non-profit artist based organization created to advance the presence of the arts in the Fox Valley and greater Chicagoland area with a strong presence in Downtown Elgin.
Oddball Art Labs specifically works to build individual artist recognition and to create opportunities for artists to show their work through various ways including hosting art shows, featuring artists through social media, building relationships with local galleries and businesses plus providing resources to artists in preparing grants and putting on their own shows.
The Oddball Art Machine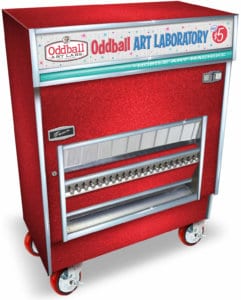 The Oddball Art Machine is a repurposed 1950's Fleetwood Fawn cigarette vending machine that has been converted to sell artwork the size of cigarette packs for only $5 each! There are 21 slots available in the machine, each of which will contain artwork by a selected individual artist. It's a fun way to discover new artists and enjoy an affordable piece of art. Every piece in the machine is handmade and completely unique, so you'll never get the same piece of art twice.
The machine travels to different business locations around Elgin in order to promote the arts in Elgin while simultaneously promoting Elgin's wonderful downtown businesses. Check the Oddball facebook page for updates on where to find the machine.
Children's Theatre of Elgin