Elgin Symphony Orchestra
20 Dupage Court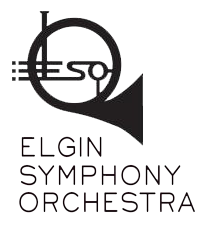 Elgin Symphony Orchestra has been named "Orchestra of the Year" an unprecedented four times by the Illinois Council of Orchestras and performs over 60 concerts a year thrilling more than 50,000 patrons, from Metro Chicagoland to Wisconsin and Indiana. In addition, the Symphony's education initiatives reach approximately 20,000 children, teachers, families, and young musicians through a variety of participatory music programs per year. Each season the Elgin Symphony attracts rising stars and internationally known guest artists.
The ESO performs at The Hemmens Cultural Center located at 45 Symphony Way in Downtown Elgin. To purchase tickets click here. For driving directions click here.

Unmatched for quality music and a fun, relaxing, cultural experience, ESO brings world-class entertainment to the heart of Downtown Elgin. In addition to magnificent music performed by some of the best musicians in the region, patrons can enjoy a drink, time with friends and even shop at the Elgin Symphony League Boutique in the lobby of the Hemmens Cultural Center. From start to finish, the ESO brings world-class, big city entertainment without the hassles of the big city.
Meet ESO Music Director: Andrew Grams
Andrew Grams has appeared with many of the great orchestras of the world including the Elgin Symphony Orchestra, Cleveland Orchestra, the Philadelphia Orchestra, the Chicago Symphony, the St. Louis Symphony, the Detroit Symphony, the National Symphony Orchestra of Washington D.C., and many others. Internationally, he has conducted the Montreal Symphony, the Vancouver Symphony, the Orchestre National de Lyon, the Orchestra of the Beethovenhalle Bonn, the BBC Symphony Orchestra London, the BBC National Orchestra of Wales, the Melbourne Symphony, the Orchestra of Santa Cecilia Rome, the Netherlands Radio Philharmonic, the Residentie Orchestra of the Hague, the Hamburg Symphony, and the Malmo Symphony, to name a few.
To read more about Mr. Grams please click here.
Read what ESO listeners have to say about their concert experiences on TripAdvisor.
Orchestra of the Year
2016, 2005, 1999 and 1998
Awarded by the Illinois Council of Orchestras
Elgin Image Award
2010
Illinois Council of Orchestras Conductor of the Year
March 2015
Awarded to ESO Conductor Andrew Grams