Elgin Public Museum
225 Grand Boulevard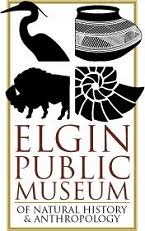 The Elgin Public Museum of Natural History and Anthropology is located within the 108-acre Lords Park and is now over 100 years old. Visitors can browse the collection of over 15,000 specimens of natural history including family focused hands-on exhibits.
Built in 1907, the Elgin Public Museum is the only natural history museum in the Fox Valley area. The Museum offers exhibits and educational programs with natural history and cultural themes for families, school groups, Scouts, clubs, organizations, homeschoolers and anyone who wants to have fun while learning!
Visitors can enjoy watching the American bison, elk, and white-tailed deer that live in wooded enclosures at
Lords Park Zoo
throughout the year. Please call for current open times for the museum and park.