Elgin Public House
eat-drink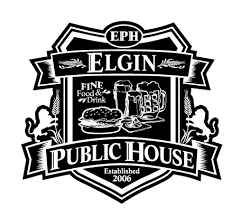 Elgin Public House is a favorite local restaurant offering an outstanding variety on their daily menu for lunch and dinner. With hamburgers, sandwiches and melts, pulled pork, mac-n-cheese, pasta dishes, seafood, steaks and healthy options too including fresh salads and vegetarian specialties, EPH will satisfy everyone in your party!
Beer-lovers will be in heaven with over 70 bottles and cans plus eight beers on tap. Guinness Draught and Blue Moon Belgium White are always featured on the draft board while the remaining six taps are constantly rotating in specialty craft beers. Seasonal and limited-time beers are a special treat. Click here for the most up-to-date list of their rotating craft drafts and limited time bottles and cans.
Elgin Public House hosts a variety of special events including trivia night every Wednesday. It's free to play and you can win money off your tab! They also host outstanding dinner pairing events, Sunday kids specials and game night, happy hour Mon-Fri from 2:30 t0 5:50, holiday brunch buffets and of course an outstanding variety of beer along with a full menu of specialty cocktails and wines. Sign-Up Here to receive the EPH Monthly Newsletter.
PUB 217
Upstairs at EPH you'll find Pub 217. Open Friday and Saturday evenings after 5pm, Pub 217 offers a more quaint, relaxing environment where you can sip on a cocktail or order from the EPH menu. This hidden hideaway is one of Elgin's best-kept secrets! Pub 217 is also available for private parties.
DINNER PAIRINGS
EPH has become famous for their dinner pairing events! Greg Shannon and the culinary team at Elgin Public House know a thing or two about pairing food and beverage. These pairing dinners are a showcase for their skills and creativity. Some of their past pairing have been: Sparkling Wines, Bell's Brewery, Whiskey & Beer, Bourbon & Bacon plus their popular Vegan Dinner Pairing. Seats are limited and they sell out fast! View the list of upcoming Dinner Pairing events here.
Elgin Public House has great views! Read Yelp Reviews Here or Read TripAdvisor Reviews Here.
DAILY DINE-IN SPECIALS
MONDAY: Half-Price Burger Night (5pm – 10pm)
Excludes Kobe & Bison Burgers, and Side Substitution Charges. May Not Combine With Any Other Offer or Coupon.
TUESDAY: Create Your Own Mac & Cheese (5pm – 10pm)
Our Mac & Cheese + Your Imagination
May Not Combine With Any Other Offer or Coupon.
WEDNESDAY: Meatloaf Dinner
Our Homemade Meatloaf Topped with Grilled Onions, and served with Mashed Potatoes, Fresh Veggies, and BBQ Sauce. Includes a Pub Salad with Your Choice of Dressing.
THURSDAY: Corned Beef & Cabbage Dinner
A Traditional Serving with Boiled Red Potatoes and Guinness Horseradish Reduction Sauce. Includes a Pub Salad with Your Choice of Dressing.
FRIDAY: Tilapia Fish Fry
House Beer-Battered Tilapia, with Pub Fries, Hush Puppies, Cole Slaw, and Cuban-Style Black Beans. Served with Tartar Sauce and Lemon.
SATURDAY: Prime Rib Dinner
Slow-Roasted Prime Rib Served with Mashed Potatoes and Guinness Horseradish Reduction Sauce. Select from 10 oz. or 14 oz.
SUNDAY: Pot Roast Dinner
Simmered All Day and placed atop Mashed Potatoes. Includes a Pub Salad with Your Choice of Dressing.
Daily specials subject to change. Please contact restaurant to confirm.
COME FOR TRIVIA NIGHT – EVERY WEDNESDAY!
Monday 11:00 AM - 1:00 AM
Tuesday11:00 AM - 1:00 AM
Wednesday11:00 AM - 1:00 AM
Thursday11:00 AM - 1:00 AM
Friday11:00 AM - 2:00 AM
Saturday11:00 AM - 2:00 AM
Sunday10:00 AM - 12:00 AM
Sunday Brunch Buffet
Sunday Brunch is served every Sunday at 10am (Last Seating 12:30pm) Assorted Eggs Benedict, Fresh Fruit, Cheesy Potato Casserole, Sausage Links & Ham, Breakfast Burritos, Mac & Cheese, Assorted Egg Strata, Biscuits & Sausage Gravy, Irish Bangers, Chicken Entrée, Mashed Potatoes, Salad Bar, Assorted French Toast, Applewood Smoked Bacon, Corned Beef & Sweet Potato Hash, Seafood Entrée, Assorted Pasta Dishes and Dessert Trays. Expanded Brunches are featured for Easter, Mother's Day and Father's Day and Christmas. Items may vary.
Kids Eat Free Sunday
Gather the family and enjoy a Sunday meal at Elgin Public House! You'll receive 1 free kids meal with 1 paid adult meal and 1 half-price kids meal with a second adult meal. Dine-in only and not valid with any other offers or coupons.